---
Janis Joplin is born January 19th, 1943 in Port Arthur (Texas) and died on October 3rd, 1970 in Hollywood (California). Her father was a canning factory worker and her mother a registrar at a business college. She attended various colleges for short periods during the 1960s.
She sang in several small clubs in Texas and California from 1960 to 1966; then she was vocalist for Big Brother and the Holding Company from 1966 to 1968, and finally solo recording artist and concert performer up to 1970.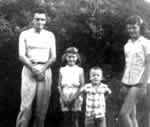 Despite her family was middle-class, she showed when she was a teenager signs of the unconventional woman she would become. She was a loner, and contrary to her siblings and neighbourhood peers, she listened to folk and blues music. Her favourite artists were Odetta, Leadbelly or Bessie Smith, and she was influenced by them in her vocal style. At seventeen, she decided to leave home.
---