---
The first group of musicians with whom Janis played during her solo career was the Kozmic Band.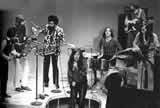 She recorded with them an album called I Got dem Ol' Kozmic Blues Again Mamma. Despite it contained no successful single, Kozmic blues went gold and the popularity of Janis continued. After a brief come-back with Big Brother in early 1970, she then formed another group, the Full-Tilt Boogie Band. They play on the last Joplin's album in 1970 : Pearl, which was the nickname her closest friends called her. This album included an acclaimed version of Kritofferson's Me and Bobby McGee, Get It While You Can, Cry Baby and the humorous Mercedes Benz she wrote herself.

Nevertheless, before Pearl was released Janis found the death. On October the 4th, 1970 the singer's body was found in the Landmark Motor Hotel in Hollywood (California). Janis had died the day before from an overdose of heroin. She was cremated and her ashes were scattered off the California coast.
Twenty-five years after her death, her blues-mamma lifestyle and heartfelt music make she is remembered as one of the best blues singer of the 60s and even classified alongside of Jimi Hendrix or Elvis Presley.
---